Interoperability, or information exchange, is essential for patient outcomes and is a focus of meaningful use and Merit Based Incentive Payment program.  The ability for electronic health records (EHR) to work together with other systems is in the forefront of the national healthcare agenda.  Interoperability is essentially the most important current and future component of any EHR solution and we are on the leading edge.
Our  EHR cloud-based platform allows for a greater level of interoperability.  Established and implemented EHR interoperability with labs, hospitals, ePrescribe, immunization registry, and in-house diagnostics is significant.  In addition, our system interoperability is continually expanding.
*NEW* Interoperability Released:

Alabama State Cancer Registry (ASCR)
Southeast Clinical Laboratories, LLC (SCL) Results/Orders,
Baptist Health Electronic Lab Orders
Alabama HIE – One Health Record
St. Vincent's Hospital and Brookwood Hospital Lab/Radiology Results Interface
Providers Seamlessly Connect To Alabama's One Health Record
Interoperability to view and share patient information between providers is a key priority for MediSYS.  MediSYS providers are given the ability to safely and securely submit their patient data to Alabama One Health Record® HIE Network, via patient's consent, as well as view existing patient information within the One Health Record portal.  As the Alabama One Health Record® HIE Network expands, so will the availability of this shared exchange of  patient data to improve patient care.
We offer relevant interoperability, not only with the Alabama HIE Network, but also with labs, hospitals, ADPH interface, and more providing significant value to today's providers!
We know firsthand that physicians find the ability to receive real-time information, like lab results, to be an invaluable tool in patient care.  Further streamlining patient care and saving time is the ability to receive hospital documents such as history and physical, radiology, pathology results, discharge summaries, operative notes, etc.
Alabama HIE – One Health Record
Lab Results Routed to Chart & Physician Inbox
Hospital Integration
Midmark ECG – Diagnostic Equipment
Surescripts ePrescribe
Real-time Alabama Immunization (Alabama Department of Public Health ADPH) Access – Submit / Retrieve Immunization / Print Blue Slip
DataMotion Direct Messaging
Receive lab results real-time from external lab reference companies:
*include orders/results
LabCorp*
Quest Diagnostics*
AEL – American Esoteric Labs*
Orchard Lab*
LabPak LIS*
Pathgroup Labs*
Alabama Pathology
Ameritox
Atherotech
Bako Laboratories
Boston Heart Labs
Bostwick Laboratories
Compass Lab Services
Cunningham Pathology
Cytopath
Diatherix
Gen Path Diagnostics
Halfpenny Technologies
Medcomp Sciences
Medical Diagnostic Labs
Path Group
Popular Healthcare
Skin Path
Southeastern Clinical Laboratories, LLC
Southern Clinical Labs
Vap Diagnosticis
Results are routed to physician's inbox for review and action. Quickly review all new lab messages from Inbox when convenient.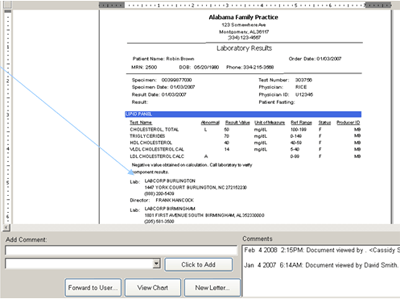 LIS Systems:
Medicus Middleware
Orchard Harvest Laboratory Information System
Merge (Fletcher-Flora, Inc./LabPak® II Laboratory Information System)
Hospital Documents & Outreach Labs:
Electronically import hospital documents such as:
(Document availability varies by hospital)
Outreach Labs
History and Physical
Discharge Summaries
Operative Notes
Radiology / Pathology Results
Hospital Interfaces:
Andalusia Regional Hospital – Andalusia, AL
Atmore Hospital – Atmore, AL
Baptist Healthcare – Pensacola, FL
Baptist Hospital – Montgomery, AL
Brookwood Medical Center – Birmingham, AL
Bryan W. Whitfield Memorial Hospital – Demopolis, AL
Dale Medical Center- Ozark, AL
Decatur Morgan General Hospital – Decatur, AL
Druid City Hospital – Tuscaloosa, AL
East Alabama Medical Center – Auburn, AL
Eliza Coffee Memorial Hospital – Florence, AL
Evergreen Medical Center – Evergreen, AL
Grove Hill Memorial Hospital – Grove Hill, AL
Highlands Medical Center – Scottsboro, AL
Huntsville Hospital – Huntsville, AL
Jackson Hospital – Montgomery, AL
Jacksonville Medical Center (RHMC) – Jacksonville, AL
Jay Hospital – Milton, FL
Lake Martin Community Hospital – Dadeville, AL
Lawrence Medical Center – Moulton, AL
LifePoint Hospitals – Brentwood, TN
Marshall Medical Center – Guntersville, AL
Marshall Medical Center – Boaz, AL
Northwest Medical Center – Winfield, AL
Pickens County Medical Center – Carrollton, AL
Providence Hospital – Mobile, AL
Russellville Hospital – Russellville, AL
Southeast Alabama Medical Center – Dothan, AL
Springhill Hospital – Mobile, AL
St. Vincent's Health System – Birmingham, AL
Troy Regional Hospital – Troy, AL
UAB Medical West – Bessemer, AL
Vaughn Regional Medical Center – Selma, AL
Washington County Hospital – Chatom, AL
Contact us regarding other hospital interfaces.
HL7 Practice Management Interfaces:  MediSYS recognizes that some practices may want to maintain their current PM system, so we will work with your current PM vendor to explore an interface.  Contact us for a list of those PM interfaces now available or for more information regarding electronic interfaces.